A number of years ago, I was engaged in a tug of war with another advisor over a client we were both trying to attract. I knew a lot about my competitor and I felt very strongly and sincerely that I was a better fit for the client. The other advisor was competent, knowledgeable, hard-working, and honest. But there was no doubt in my mind that the client would be better served dealing with me. But why? What did I think I brought to the table that was unique and powerful and put the client in a better position?
After a great deal of reflection, what I believed to be the reason came to me. In my opinion, I cared more.
Advice has evolved over the years. Back when they called us "stockbrokers", transactions were at the heart of things and the quality of the broker's advice revolved around them. If the broker steered the investor to a favourable trade; if he/she understood the investor's objectives and risk tolerance; if he/she helped the investor achieve positive results with the trade, then the advice was good.
I call this transactional advice.
Client says: I have money. What should I invest in?
Advisor asks: What are your time horizon and risk tolerance?
Advisor requires: Investment knowledge, sales skills
By the 1990s, mutual funds grew in popularity and brokers became "advisors" who turned their attention to the bigger picture. With day-to-day transactions being handled by fund managers, advisors wanted to talk to clients about their broader financial concerns. They wanted to learn how many grandchildren you have, what your hobbies are, what your vision for a happy retirement looked like, and what your estate plans were. "We'll build a plan to get you there", they say. If you ask me, this is where most of the industry still is today.
I call this relationship-based advice.
Client says: I want to ensure I have enough for retirement.
Advisor asks: Tell me what the ideal retirement looks like.
Advisor requires: Consultative skills, planning knowledge.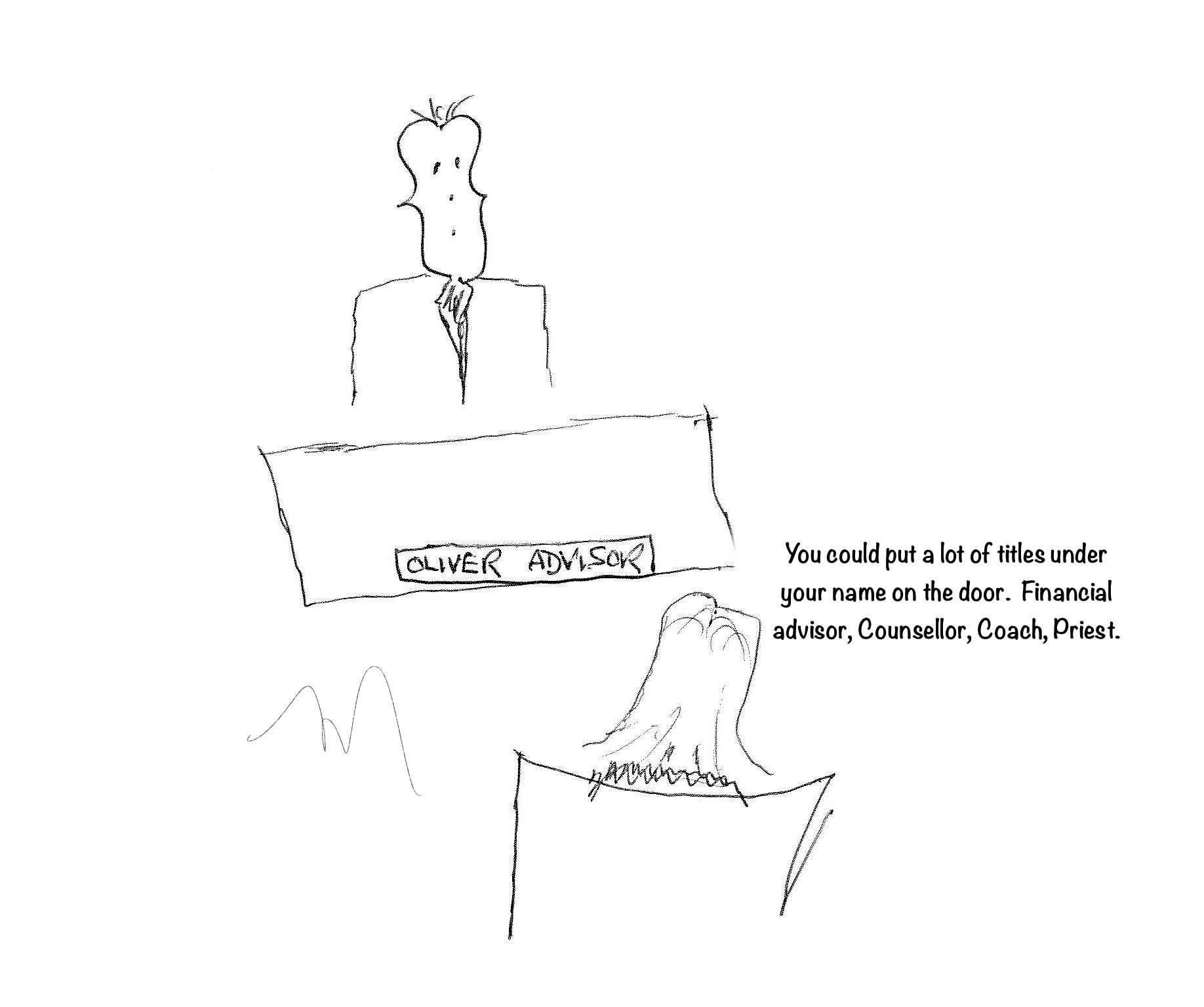 But over the years, I've found that the most profound and impactful client outcomes are achieved when the relationship goes deeper still. When clients are comfortable opening up and sharing about their lives in general, there is an opportunity for the advisor to learn things that are far more important and impactful than what is revealed from a planning questionnaire or a discovery meeting. When clients talk to an advisor like they talk to a close friend and confidante, the whole story and the whole truth comes out, and a bond forms.
This can only happen when the advisor cares. In this type of relationship, the advisor has to invest a lot of time and just listen. The stories and the conversations often have little to do with the client's money. And the advisor for whom the work is a job, a career or a business will not have the patience or the desire to spend a lot of time on something that is not connected to how he or she gets paid. But the advisor for whom the work and the fulfillment they derive from it comes from connecting with people and making a difference in their lives by being someone clients can trust, it's more than a job.
I call this vocational advice.
Client says: I have to leave on a long business trip and my father's health is declining. He needs to be in a retirement home.
Advisor asks: Actually, it depends. Only someone who knows the client very well would know what to say next. The right thing might be to say nothing at that moment but just to keep listening. By the end of the conversation, the advisor may have offered solutions or may have just been supportive.
Advisor requires: Empathy, human insight, character
Genuinely caring for clients is not a substitute for knowledge and competence. Those things are a given. But when knowledge is applied with empathy and an understanding of the client's sensibilities and values, the result is advice that makes the greatest positive difference for the client. Back then, it seemed to me like the other advisor was the type of person who was more concerned with the clients' accounts than with the clients themselves. That client chose to entrust me with their financial affairs. That strengthened my belief that the advisor who feels called to do this work understands that it is more about people than it is about their money.